Because no experience is complete without music
Memorable events call for an unforgettable sound. Musicology will enliven the atmosphere and help you celebrate.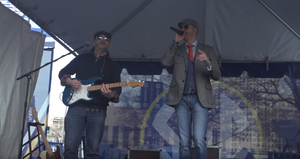 ST. LOUIS BAND FOR WEDDINGS, CLUBS & EVENTS
Musicology is St. Louis' premiere entertainment choice for all of your live entertainment needs. This two-man band offers the most diverse musical experience you will find in the Midwest with the sound of a full band and a songlist that spans decades and includes current pop, rock, disco, country, swing, and R&B. Regardless of whether you're looking to set the mood for an evening of laid-back mingling, a high-energy dance party, or even a tribute show to your favorite artists (ranging from Frank Sinatra to Bruno Mars), Musicology delivers the ultimate live entertainment experience.
The band consists of two veterans of the entertainment industry, each with more than 20 years of performing experience in music and comedy. Jimmy (aka. The Hat) is one of St. Louis' elite guitarists and has had a guiding hand in the success of multiple bands since the early 90's, including Swing Cat Swing, The Pack Rats, and NO DIGGITY. Brad (aka. Sugar Lips) is a certified crooner and began delivering his velvety vocals with his self-named jazz quartet in the mid-90's. He started blending jazz and R&B with his Texas-based band Cold Sweat, before returning to St. Louis and teaming up with The Pack Rats and NO DIGGITY.
Combining live music with well-produced accompaniment, Musicology delivers a full-band experience with only two people. That means the party is just as big, just as loud, and just as epic as you want it to be...but, unlike bands with 5 or more players, Musicology can easily control the volume. That means no room is too big or too small for Musicology. AND...Musicology is much more flexible and affordable than an 8-piece band! However, if you really want a full band, additional players, including drums, bass, horns, and a female vocalist can be added to create the best full-band experience in the St. Louis area...JB & The Musicology! 
So...what are you waiting for? Click on "Contact Us" right now to find out how to make your upcoming event unforgettable!